Jeyaram & Associates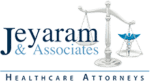 Our experienced attorneys include a former Georgia Administrative Law Judge, former Department of Community Health attorneys and a current part-time Gwinnett County Magistrate Judge.
Jeyaram & Associates' legal team has extensive experience working with individuals and healthcare entities. Collectively, our attorneys have more than 100 years of experience.